Eighty years ago–April 17, 1934 — the Newspaper Guild of Pittsburgh received its charter as a member of the American Newspaper Guild. We were the 61st, thus our Local number, which became CWA 38061 with the merger.
There was a typo in the cake — Happy 80th Birthday New Paper Guild of Pittsburgh!
Funny — they were delivering it to a newspaper!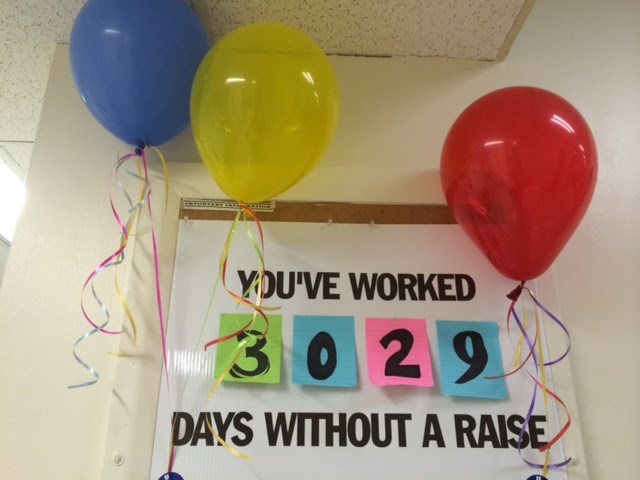 "I am proud to be a member of the Newspaper Guild of Pittsburgh and humbled to be president of such a wonderful group of professional journalists," local President Michael A. Fuoco told the throng after highlighting all the local does in addition to bargaining, protecting members' rights and advocating for journalism.
He cited the local working with the company on diversity issues, stress management sessions, and improving the intern program. Moreover, the local is involved in the community, raising more than $300,000 for the region's food bank and $30,000 for college scholarships for aspiring journalists over the last 13 years through co-sponsorship of an annual satirical review. The local also sponsored a Day of Caring in which Guild volunteers planted hundreds of trees in two city neighborhoods.
Executive Editor David M. Shribman, who was unable to attend, sent a message that read in part:
"In ways that would be inexplicable, incongruous and inconceivable in most newsrooms, the masthead of this newspaper and the leadership of its newsroom Guild work in remarkable, extraordinary ways. So on your birthday I salute and thank you and … pledge to continue to work together for a better Post-Gazette, next week, next year, and far into the future."
"So give yourselves a hand for continuing what our forefathers brought to this paper fourscore years ago and let's eat some cake!" Fuoco said. And Guild members and managers did both.